Duct Cleaning & Dryer Vent Cleaning

Keep Your Ducts and Dryer Vents Clean
Our experts at Service 1st Heating and Cooling are here to help you keep your family happy, healthy and safe. The importance of regular duct cleaning and dryer vent cleaning should never be overlooked. Cleaning your air ducts regularly can greatly help to improve the air quality within your home, while dryer vent cleaning can help to reduce the risk of dryer-related fires.
We are a locally-owned and operated professional residential air duct and dryer vent cleaning company. Service 1st offers free estimates and up-front pricing on our cleaning services. Beware of companies that offer deep discounts and specials that result in surcharges and hidden fees. Let us do the dirty work for you so you can breathe easier.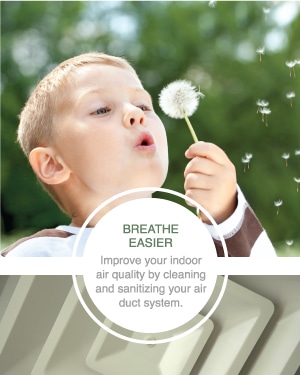 Reasons To Keep Your Air Ducts Clean
Improve air quality and smell
Allergies and Illness
Mildew and mold
Drywall dust
Pet fur and dander
Creepy crawlies
New furnace installation
Just moved in
Reduce dusting
Heating and cooling efficiency
Why Is Duct Cleaning Necessary?
Have you ever inspected the ductwork of your house? If your ducts were made of glass, chances are that you would probably get them cleaned more often. You may think because the dirt is hidden away that it just sits there, but that is not the case. 
When your furnace or air conditioner is turned on it circulates air through your home. As it is circulating it is moving these particles out into the air you breathe. The amount of dust, debris, cobwebs, mold, fungus, chemical pollutants, and allergens that can build up in there over the years is staggering.
Air alone cannot dislodge debris from all the nooks and crannies, nor can it remove the film formed by oils from cooking, tar and nicotine from cigarette smoke, or soot from candles or wood stoves. That's why we use the latest in state-of-the-art technology. 
Our world class Rotobrush Air Duct Cleaning System will deliver results far beyond your expectations. We are so confident in our product and workmanship that we will back it up with a 30-Day Risk Free Guarantee!
Book Your Free No Obligation Estimate
Request a quote to book your free estimate with no pressure to buy.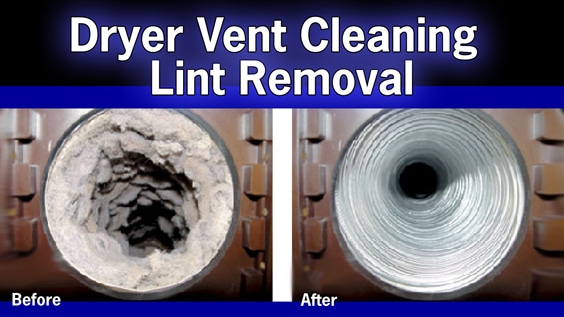 Chances are you don't look at it or even think about it. It's the vent from your clothes dryer. Over time, it fills with lint that slips past your dryer's filter and builds up in the hose and pipes that vent the warm air outdoors. As the flammable lint builds up, it can become a fire hazard in your home. One that can ignite at any time.
Certainly, a dryer with restricted air flow also runs significantly longer, causing utility costs to rise. Running longer increases the need for repairs and decreases the life of the dryer. By cleaning your dryer vent, we can help ensure your clothes dryer is both safe and energy efficient.
Warning Signs Of Dryer Lint Blockage
Do you suspect it is time to have your dryer vent cleaned? Here are the signs you should always be on the lookout for:
Does your dryer take 50+ minutes to dry a load?
Is the top of the dryer hot to the touch?
Is there humidity or dryer lint inside the dryer door?
Do you smell a slight burning smell during operation?
Is there water in the transition tube connecting the dryer?
Do your clothes smell musty or moldy?
Is your lint screen no longer gathering lint?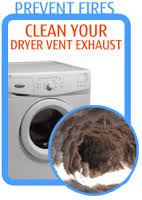 Not satisfied? Give us a call and we will return to clean your ducts, at no extra charge. We offer a 30 Day satisfaction guarantee.
At Service 1st Air Duct Cleaning our goal is to provide exceptional customer satisfaction. We are committed to improve the indoor air you breathe. We offer FREE estimates and upfront pricing. Beware of companies that offer deep discount and specials that result in surcharges and hidden fees. * Service 1st Air Duct Cleaning does not solicit by telephone.