Heating, ventilation, and air conditioning are all important parts of your home that most homeowners don't often know a lot about. This guide will help you better understand these components of your home and answer some frequently answered questions about home HVAC systems.
To find out more about all of the topics above, continue reading below. Or, give us a call at Service 1st if you have any questions about your home HVAC system.
Please note: There are many different types of heating, cooling, and HVAC systems that may be found in homes across Canada. In this article, we provide an overview of the most common types of systems. If you have any questions about any part of your HVAC system, contact an experienced HVAC company. Please also note that we do not sell or service boilers and oil furnaces and we do not install, sell or service wood fireplaces.
A Complete Guide To Your Home's Heating, Ventilation, and Cooling Systems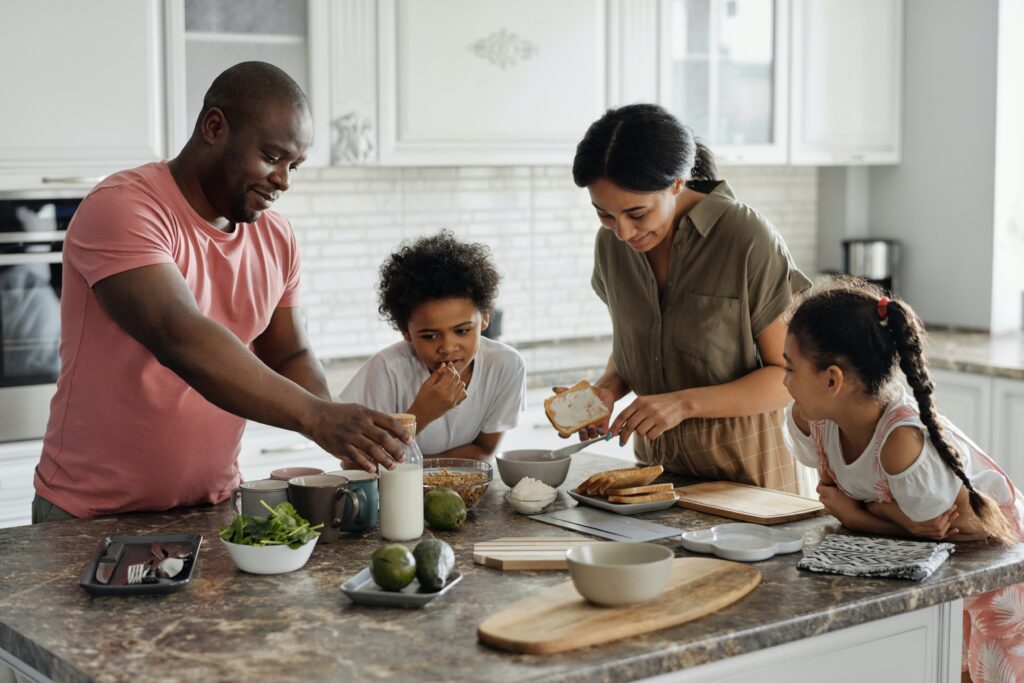 Heating systems simply refer to the products installed in your home that heat it up during the winter and colder months.
All homes in Canada need some type of heating system, as our winters get very cold and stay cold for months at a time. Most homes in Canada have a central furnace that is hooked up to the air ducts in your home. Your furnace generates hot air that is then blown through the air ducts and released via your air registers.
Most furnaces you will come across in homes across Ontario are gas furnaces. There are different types of in-home heating too (such as boilers, and other systems) but they are less common, and you may need to work with an HVAC company that specializes in these types of heating systems, as many do not service them.
In addition to your central heating system, many homes will also have a fireplace to help warm up commonly used spaces in your home, such as a large master bedroom, your living room, or your dining room.
Wood fireplaces are a popular choice and require a chimney to help release smoke. There are also gas fireplaces and propane fireplaces that will require gas hookups, and electric fireplaces that simply need to be plugged in.
Fireplaces can act as an additional source of heat while using less energy, which is helpful if you are trying to reduce your energy bills at the end of each month.
What Is Air Conditioning?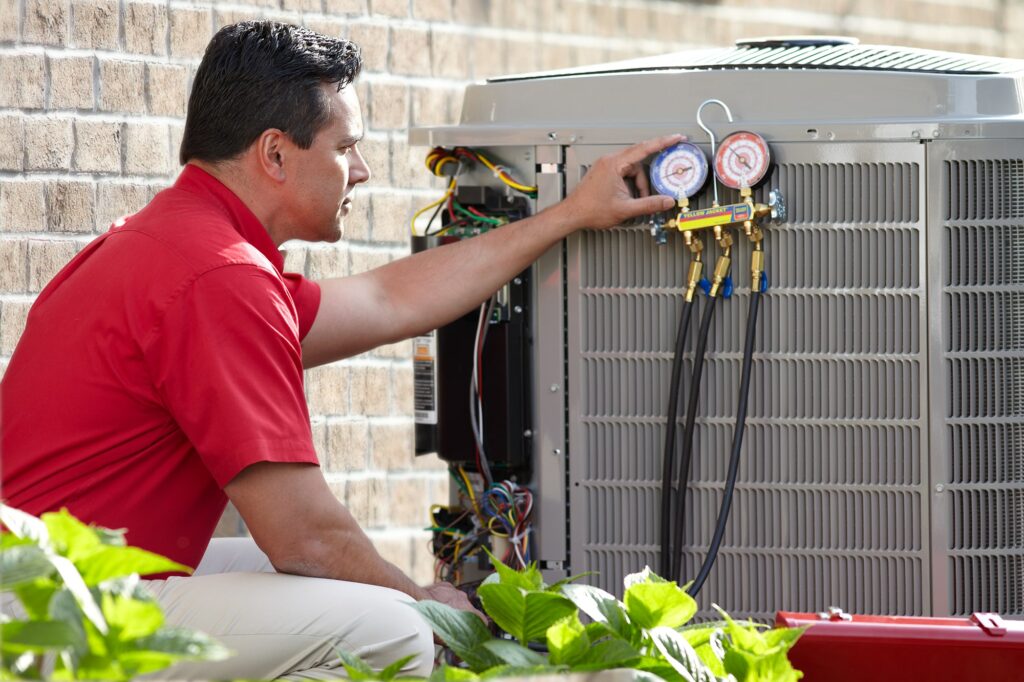 An air conditioning system helps keep your home cool and comfortable during the warmer months
Just like heating, air conditioning is the general term used for the products and systems installed in your home that use cool air to lower indoor temperatures during the summer and hotter months.
Many homeowners may not realize that air conditioning doesn't just add cold air to your home. Using your home's ventilation system, your air conditioner actually removes hot air first by absorbing heat and transferring it outside. Air conditioners use a chemical called refrigerant to complete this process.
So, how exactly does an air conditioner work? Here's the process:
First, the liquid refrigerant within your AC unit absorbs hot air from your home, which begins to cool down the air
Next, the liquid refrigerant changes into a gas and is put through a compressor
After that, the refrigerant gas goes through condenser coils that allow the heat it has absorbed to be transferred to the air outside
Refrigerant expands to decrease its pressure, which causes the indoor air to cool down
If you love science, you may be interested to learn more about refrigerants. You can click here to see an in-depth guide on the process.
Air conditioners can help you and your family stay much more comfortable during our hot Ontario summers by controlling indoor temperatures and reducing humidity in your home.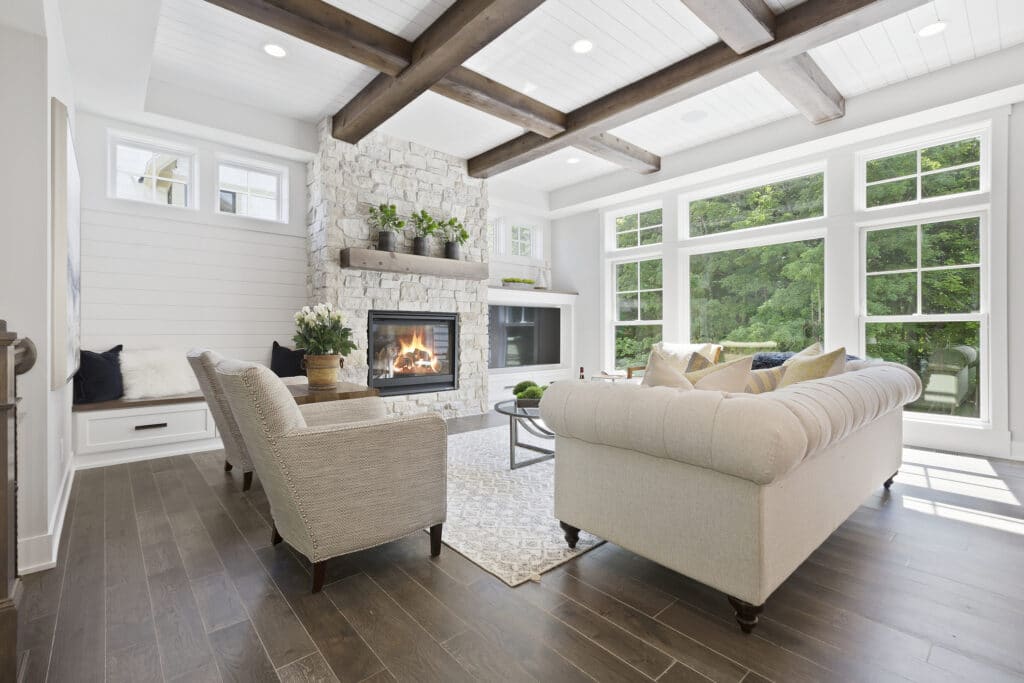 Your home's ventilation system runs through the entire house
Ventilation doesn't just refer to the vents and ducts in your home. Ventilation actually refers to a process. Home ventilation allows indoor air to exchange with outdoor air.
This is done through networks of ducts and one (or more) fans installed throughout your home. Your AC and heating units will be attached to your ventilation system so that hot and cold air can be properly distributed through your home and vented outside.
Ventilation is important in all homes. One of the great things about buying a home in Canada is that you typically will get a home with great insulation to help keep drafts, pests, and outside pollutants out of your home. This is especially true with newer homes.
However, airtight homes with great insulation mean that stagnant, indoor air that includes indoor pollutants, moisture and mould, and harmful gasses can build up inside if you do not have a proper ventilation system.
Combustion gasses, like carbon monoxide (CO), can build up to dangerous levels in your home from appliances and products that naturally produce CO. As well, mould spores are everywhere and can quickly begin to grow if moisture is left unattended in your house.
Indoor air pollutants, such as dust mites, pet dander, and chemicals from cleaning supplies can make you feel sick if they are not adequately removed from the air.
A proper ventilation system will help to circulate the air in your home and remove these potential problems from your home.
Heating, Ventilation, and Air Conditioning FAQ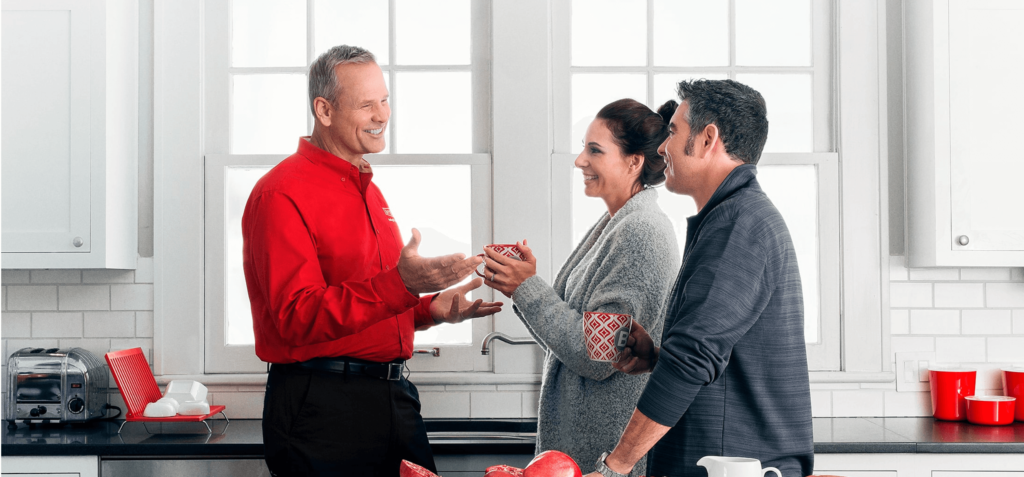 Your HVAC Technicians can help you better understand your home's heating, ventilation, and air conditioning systems
While every homeowner has at least heating and ventilation in their home, and many others have AC as well, most do not really know how these systems work. Here are some frequently asked questions to help you learn more about your home heating, ventilation, and air conditioning systems.
Q: Do AC and Heating Systems Use The Same Vents?
Yes, in most cases your furnace (forced air) and air conditioner (central air) will use the same vents. However, your actual furnace and your AC are not connected to each other (unless you have something called a "split unit.") They share the same ductwork and vents but they operate independently from each other. This means that if your furnace is broken, for example, it does not impact your AC unit.
Note: some homes may have different types of heating and HVAC systems installed. It is always important to consult a trusted company before you get any HVAC work completed.
Q: What Is The Difference Between "HVAC" and "Ventilation?"
In order to answer this question, it's important to first discuss what "HVAC" stands for. HVAC is short for Heating, Ventilation, and Air Conditioning. The "V" is HVAC is ventilation, meaning that it is part of the "big picture." HVAC refers to the entire heating, ventilation, and air conditioning system in a house or building, whereas ventilation just refers to the ventilation system (ductwork, vents, etc)
Q: Is It Cheaper To Get a Furnace and AC Unit Installed At The Same Time?
In general, it might be a little bit more cost-effective to replace both of your systems at the same time as the technicians will already be at your home working with your HVAC system. Labour will likely cost less if you are getting this done on the same day, but the price for the actual parts may not change. It depends on any specials or offers your particular HVAC company is offering.
Q: Are Heating and AC Products Separate Units?
In many cases, yes, your furnace and your air conditioner are two separate units. They are not connected to each other and run independently from each other, but they do use the same ventilation system. There are some units, however, called split units that have both the outside unit (the AC) and the inside unit (the furnace) connected to each other.
Trust Service 1st For Your Heating, Ventilation and Air Conditioning Systems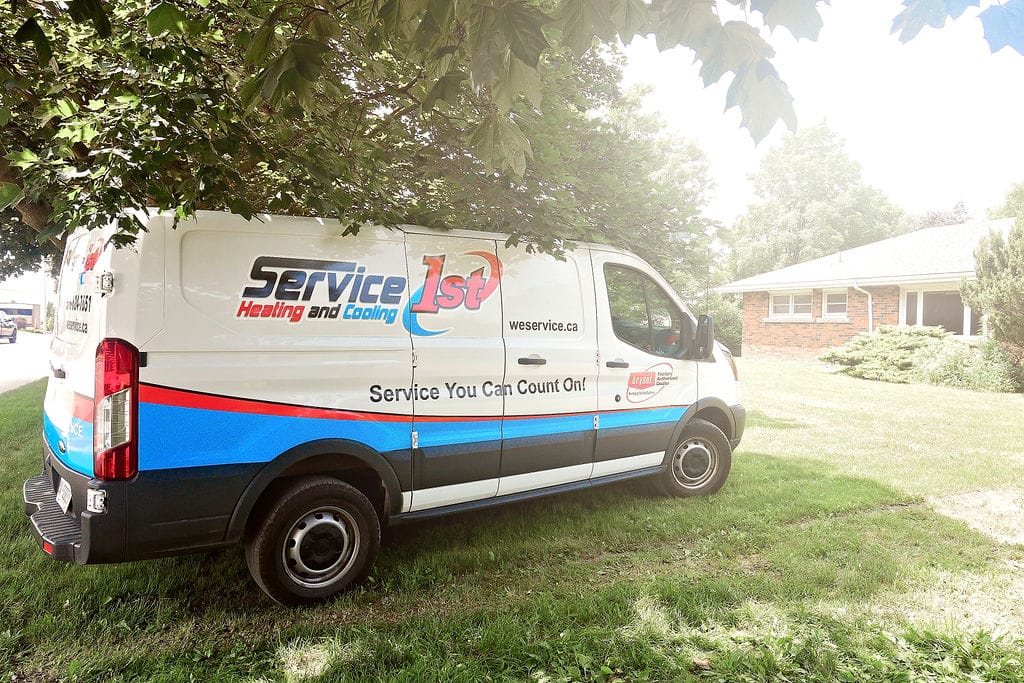 If you are in need of a new furnace or AC unit, require furnace maintenance, or need an emergency repair, homeowners in Cambridge and the surrounding areas have been relying on Service 1st for over 30 years. All of our technicians have been expertly trained and have the experience and expertise needed to help you with all of your HVAC needs.
Service 1st is a locally owned and operated business. We pride ourselves on professionalism and delivering the highest quality work as well as installing the highest quality products. We are an Elite Bryant Factory Authorized Dealer. We have received the prestigious Circle of Champions award from Bryant – an honour that highlights our commitment to quality, leadership, and excellence in the HVAC industry.
"We had Service 1st install our new heat pump and furnace recently. Professional, timely, courteous and respectful are a few points that come to mind. We had 4 installers arrive timely – Sam, Brandon, Troy and Silas. All of them were professional and friendly. They left our house neat and tidy with barely any signs they were here. Hopefully, our new system will keep us comfortable for many years. We highly recommend Service 1st and their wonderful team."
When you choose Service 1st, you'll be working with a company that truly cares about our clients. As a local business, you are our neighbours. We are committed to ensuring that all our clients feel respected, understood, and comfortable with our products, services, and solutions throughout the entire process.
If you would like to learn more about our heating, ventilation, and air conditioning systems, get in touch now. You'll be able to speak to someone from our staff right away and will have the opportunity to ask any questions or have any concerns addressed immediately. We look forward to hearing from you.