If you are looking for professional HVAC services in Cambridge and the surrounding areas, you can rely on our experienced and professional staff to help you with all of your heating and cooling needs.
To find out more about us and our quality services, click on the links below:
1. Heating Products & Services
2. Cooling Products & Services
3. Duct Cleaning
4. Emergency Services
5. Why Choose Service 1st
Continue reading to learn more about everything listed above, or contact us today to find out more. When you contact Service 1st, you won't have to worry about automated menus or confusing voice commands. You'll always get to talk to a real person, right away.
Professional HVAC Services You Can Trust: Service 1st Heating and Cooling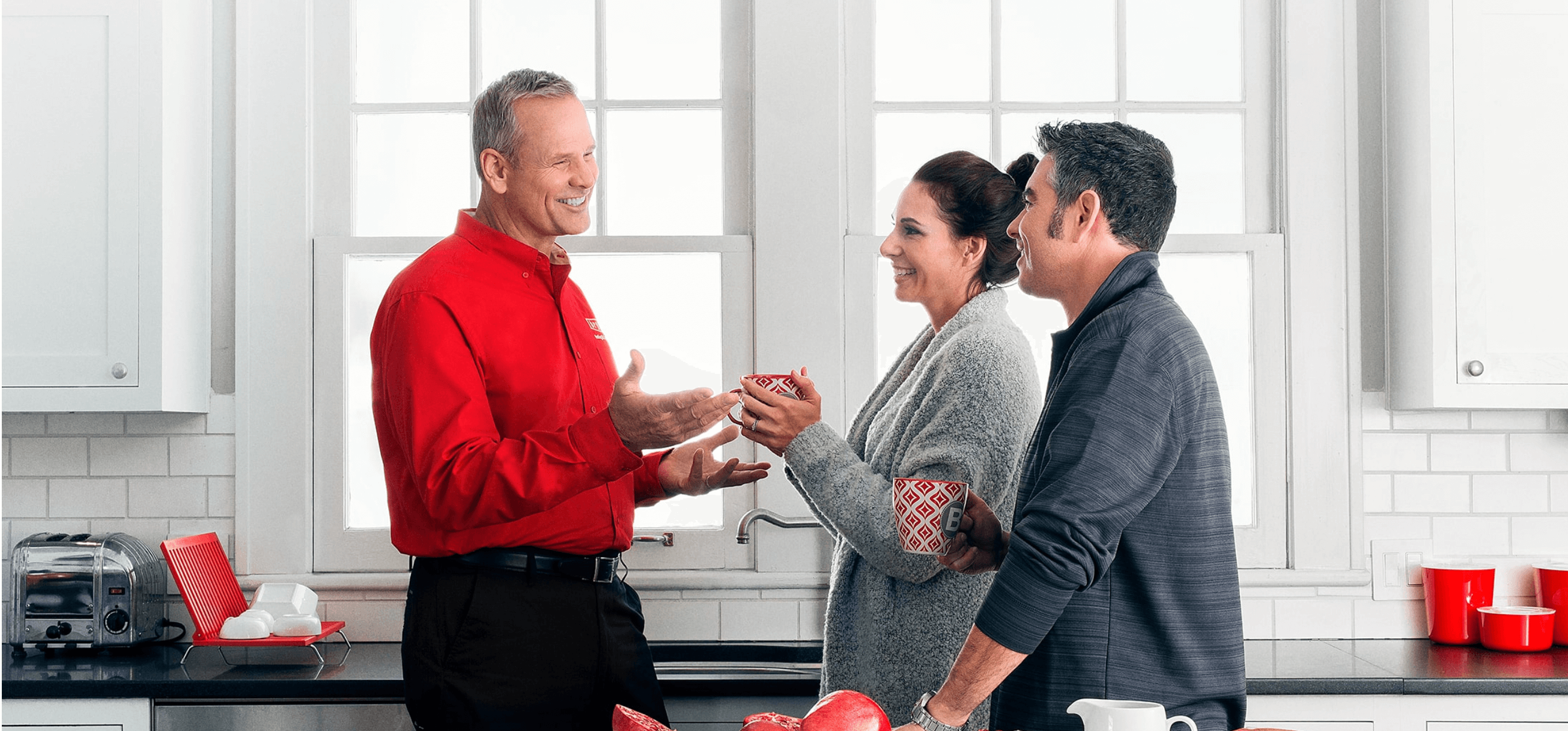 Stay Warm In The Winter: Heating Products & Services
"Chris came by and did an annual service on our furnace, he was detailed, professional and an awesome guy, thank you for the wonderful service"
If you've ever spent a winter in Southern Ontario, then you know just how chilly it can be. Temperatures begin to dip in early-mid November and can stay quite cold all the way until March.
Ensuring that your home has quality heating products, such as furnaces and fireplaces, is the best way to stay warm and toasty during our long and cold winters.
When you choose to work with Service 1st Heating and Cooling, you can rest assured knowing that you and your family's comfort and safety is our top priority. All of our staff, including our professional technicians, value professionalism, respect, and kindness.
From the moment we first speak to you on the phone to the final clean-up after an installation, we walk with you through the whole process, take the time to understand your budget, and explain what we're doing.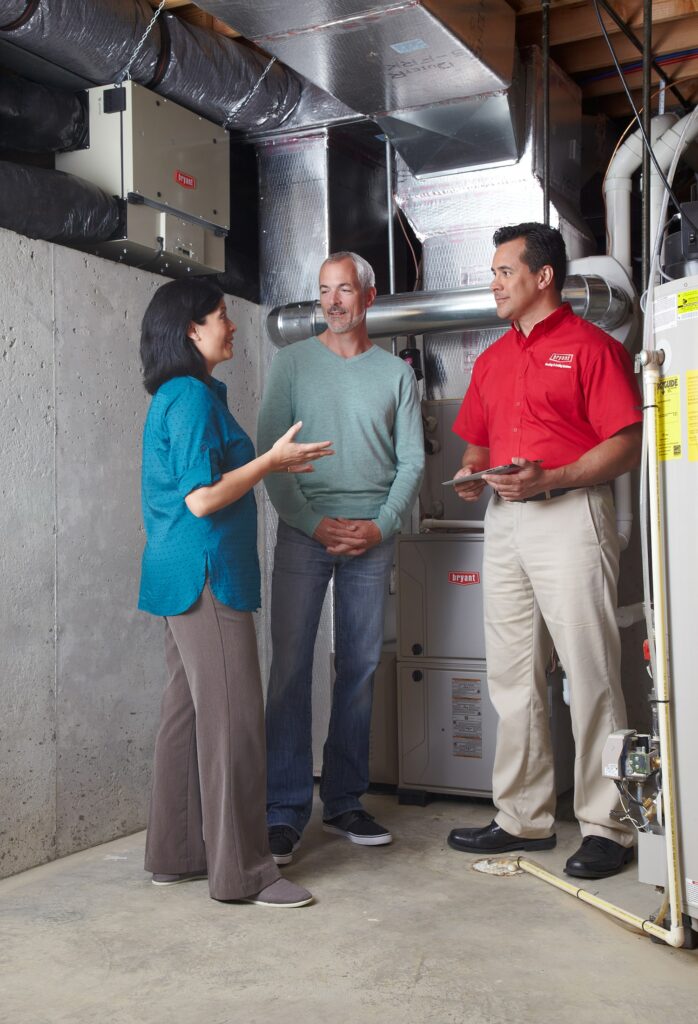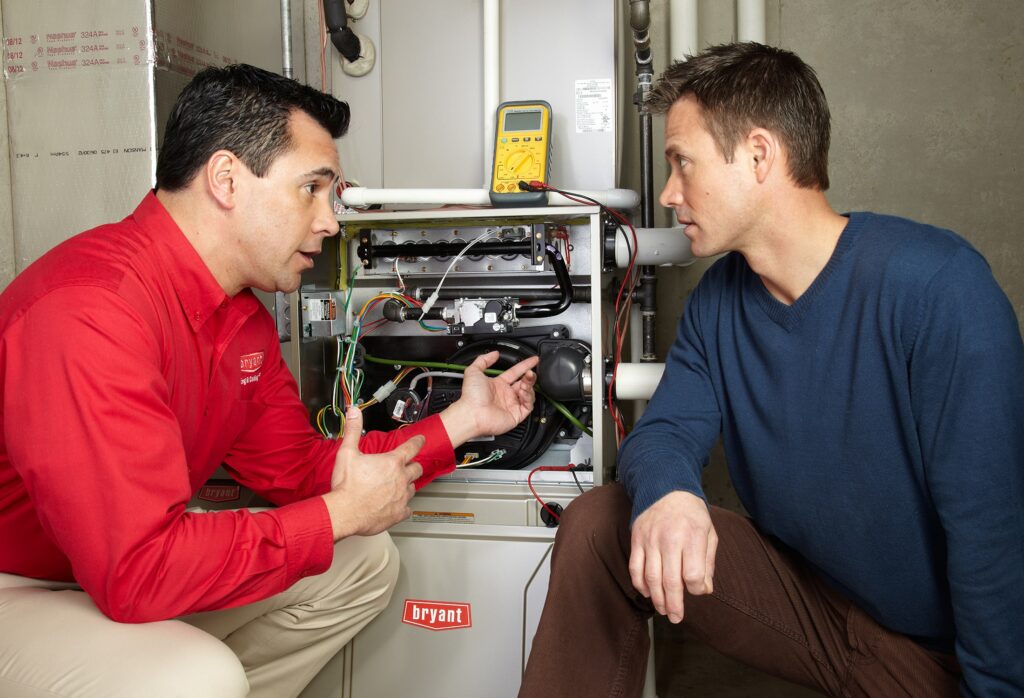 At Service 1st, we believe in the quality of the products that we sell. That's why we are an Elite Bryant Factory Authorized Dealer. This means that when you choose to work with Service 1st to install your new furnace, you'll be working with a company that must adhere to Bryant's high standards of excellence.
If you've just moved into a home that needs a new furnace or have decided that your old one finally needs to be replaced, we can help. When choosing Service 1st for your furnace installation, you can expect:
Factory-trained and certified installation experts
30+ years of industry experience
Thorough explanations throughout the entire process
Time taken to answer your questions or concerns
Use of the latest and highest quality tools and equipment
Professionalism from all of our staff and respect for your home
We understand that it may feel overwhelming when it comes time to replace your furnace. Our team does everything we can to help you feel comfortable throughout the process, from start to finish.
If you are not in need of a new furnace but simply would like to have a repair or maintenance done, we can do that too. You can rest assured that we never recommend replacing your furnace unless it truly needs to be replaced.
Considering adding a fireplace to your home? Fireplaces can act as an additional source of heat through those cold winter months. They are also a beautiful addition to living rooms, dining rooms, basements, and even master bedrooms.
Get cozy this winter in front of your new fireplace. Here's how Service 1st can help:
A hassle-free experience no matter how big or small the project
Experienced technicians who value professionalism
A wide selection of high-quality fireplaces to choose from
When it comes to fireplace installation, you can expect the same level of expertise and high-quality work as you would with all of our other professional HVAC services.
Note: we do not install, sell, or service wood fireplaces.
Stay Cool In The Summer: Cooling Products & Services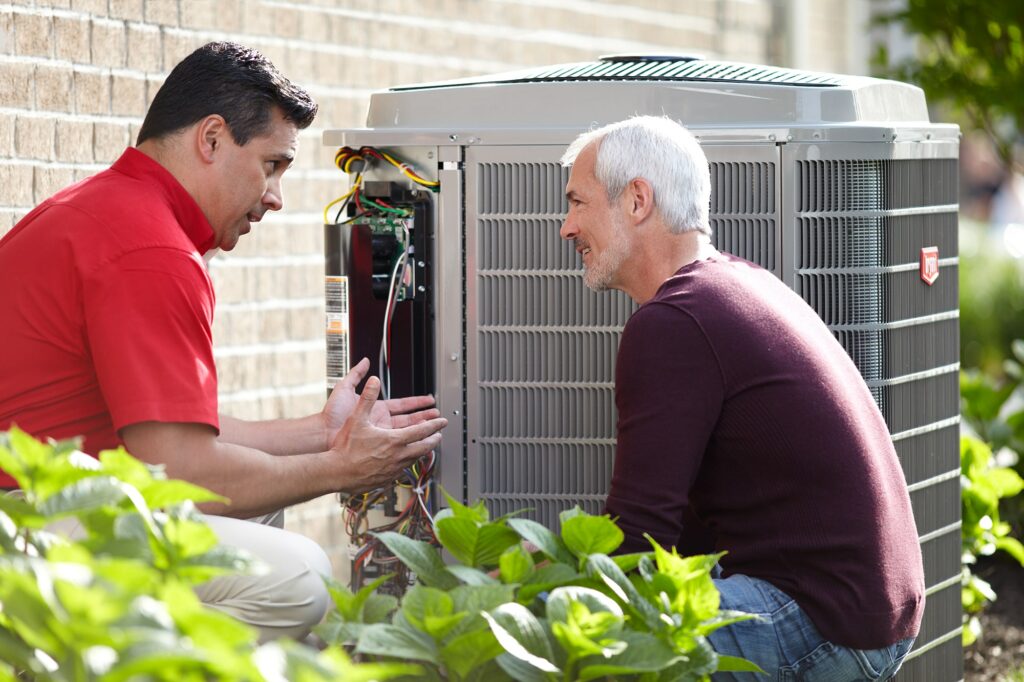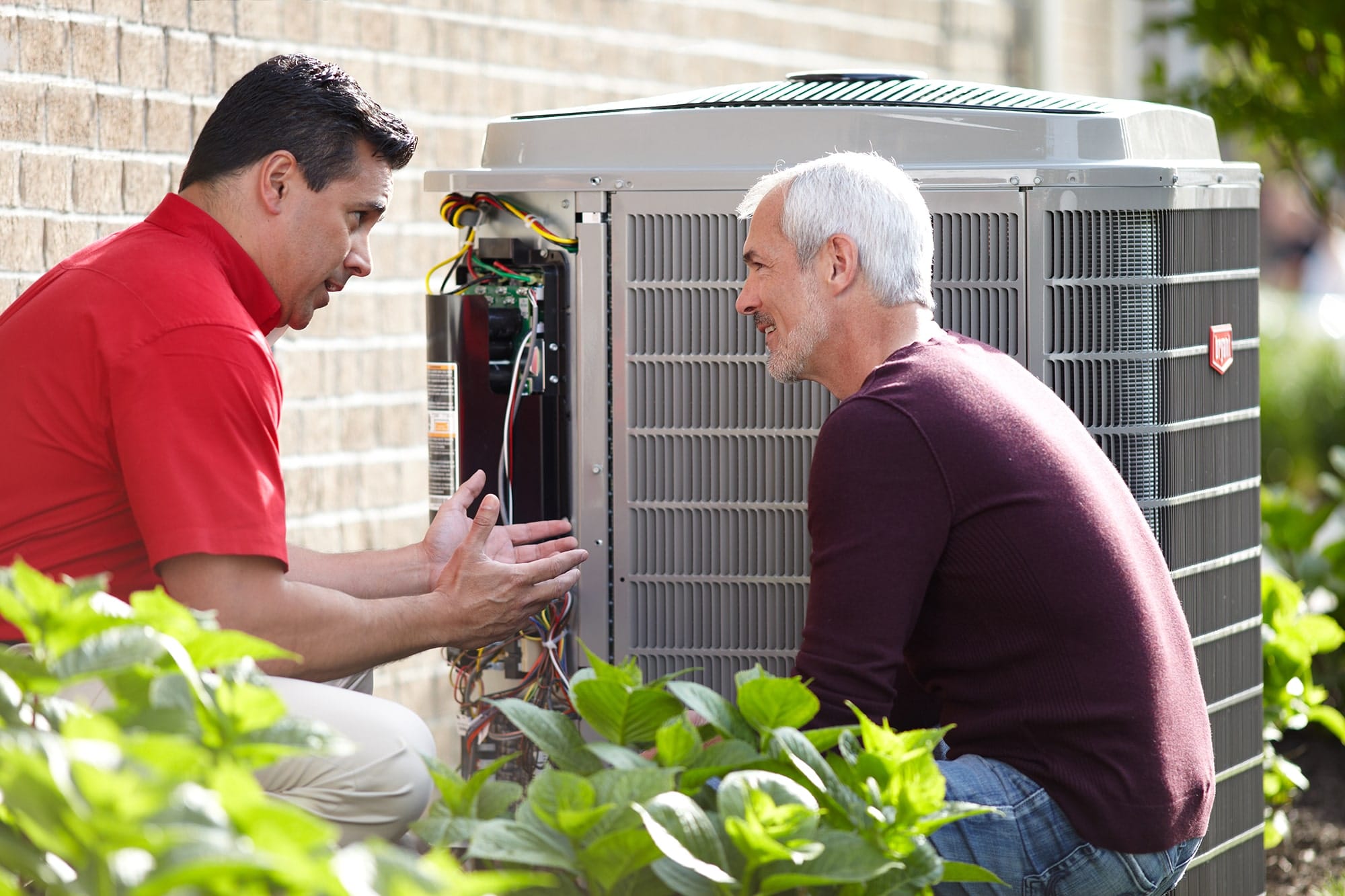 "We have used this company for years. We purchased our furnace and A/C from them and because of the excellent service they provide, have recommended them to family and friends…"
Professional HVAC services include cooling as well.Just like Southern Ontario is known for its cold winters, we are also known for our hot summers. Did you know that in July, Cambridge experiences an average high of 26 degrees Celsius? And that's not counting the humidity!
Temperature extremes throughout the year mean that homeowners typically require both heating and cooling in order to stay comfortable year-round. Because of this, we offer both quality heating and cooling solutions.
As an Elite Bryant Factory Authorized Dealer, we offer only the highest quality air conditioner products available. While high-quality products will cost a bit more upfront, you will significantly save money in the long run.
Air conditioner repair costs can range depending on the problem itself and the severity of the issue. Investing in a quality air conditioner when it comes time to add one to your home or replace your existing one means saving thousands of dollars in repair costs over the years and ensuring that you won't have to replace the unit for a very long time.
When you choose to work with Service 1st for your AC installation, you can expect:
Experienced technicians that help you choose the right AC size for your home
30+ years of industry experience
Respect for your home during and after the installation process
Thorough explanation of the process
Information about best-use of your new product
Choosing a high-quality, efficient air conditioner can help keep you and your family comfortable during the hot summer months. Working with Service 1st can help give you peace of mind that you've got the best product for your home and budget.
Improved Air Quality For Your Family: Duct Cleaning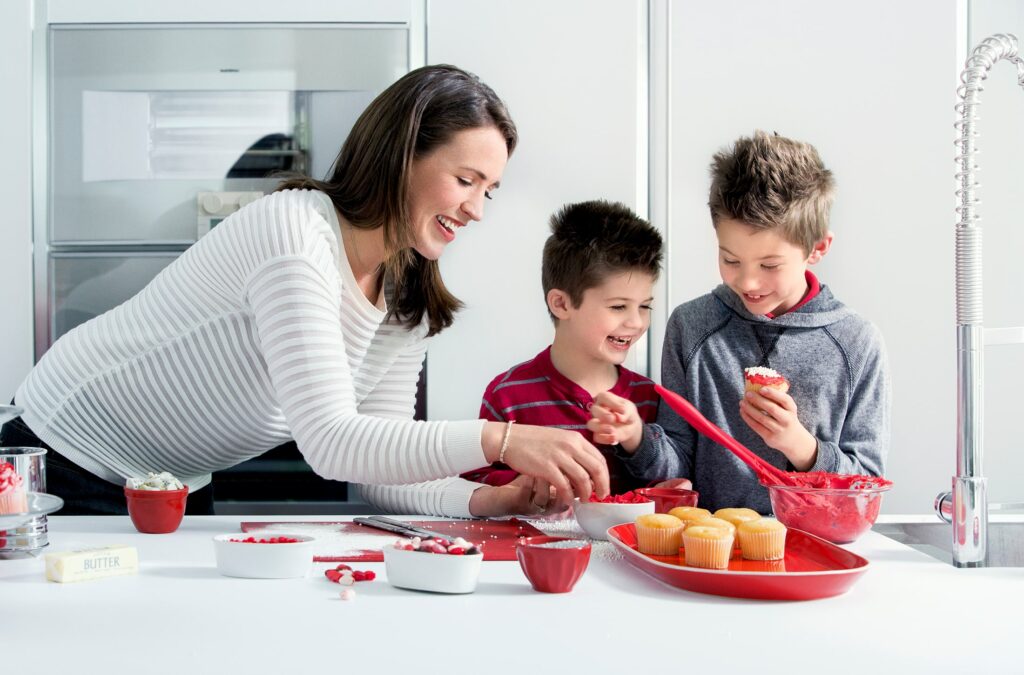 "We used Service 1st for our AC replacement and recently duct/vent cleaning. They were professional, courteous, on time, and friendly. I would recommend this service provider for these services…"
Just like with all of our professional HVAC services, one of our top priorities at Service 1st is to help keep you and your family healthy and happy. The ducts in your home help transfer cold air for your AC and hot air from your furnace to the different rooms and areas in your home.
You may not think about your ducts very often – after all, they are mostly hidden away. However, over time, all ducts will accumulate dust, debris, and pet hair. They can also begin to harbour allergens and even mould spores.
So if you haven't had your ducts cleaned in a long time, when you turn on your AC or furnace, all of that air will start to circulate with the particles built up in your ducts.
Do I Really Need Duct Cleaning?
Duct cleaning has developed a bit of a bad rap over the years because of an influx of spam phone calls from companies asking if you need your ducts cleaned.
But don't let that stop you from cleaning your ducts. Duct cleaning is an important service that helps improve the air quality in your home. Some of the main reasons to choose duct cleaning include:
Overall improved air quality in your home
Helps with allergy symptoms, especially those allergic to dust
Removes mould growth, which can make you feel sick
Improves HVAC efficiency
Removes cobwebs or any insects that have made a home in your ducts
Cleans out pet hair and dander
Even the cleanest households should have their ducts cleaned regularly. No matter how clean you are, moisture, dust, insects, and debris will get into your ducts and can create problems.
Did you know that in the right environments, mould growth can begin within 24-48 hours? Even a small amount of moisture in your ducts can cause mould to grow rapidly.
Service 1st offers homeowners the highest quality duct cleaning services, with our Rotobrush Air Duct Cleaning System that delivers the absolute best results.
There When You Need Us: Emergency Services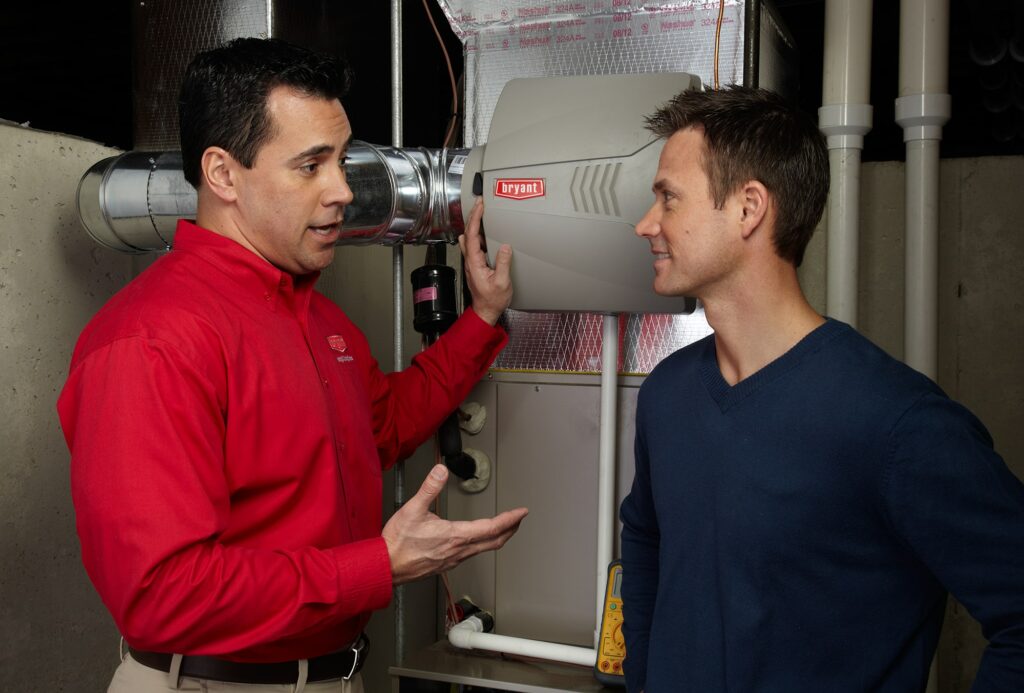 "Our AC went out on the hottest day of the year and I'm 8 months pregnant. I called in a panic and Paula was so responsive. She had Chris at our place within an hour and he was able to fix our AC within 45 mins…"
We know that emergency issues with any HVAC system can occur at any time. We are proud to offer emergency services that you can rely on, and that won't cause you even more stress during an already stressful situation.
We want to ensure that all of our clients avoid "sticker shock" – those unexplained and unexpected costs that pop up after a job has already been completed. That's why we offer a flat-rate pricing system. Here's how it works:
First, we will assess the situation and confirm a diagnosis
Next, our experienced technicians will provide you with a firm quote for the entire repair
Finally, we'll complete the repair and your cost will stay the same no matter how long it takes
You can rely on our professional HVAC services if you notice a problem that requires emergency repair. We keep our trucks completely stocked with everything you can imagine to help reduce downtime between the initial inspection and repair.
Professional HVAC Services: Why Choose Service 1st
Whether you need a new AC unit installed, furnace maintenance, or an emergency repair, you can rely on our 30+ years of experience servicing homeowners in Cambridge and surrounding areas. You can rely on Service 1st's professional HVAC services.
We are a locally owned and operated business that prides itself on the highest quality work and installation of the highest quality products. We have received the prestigious Circle of Champions award from Bryant – an honour that highlights our commitment to quality, leadership, and excellence in the HVAC industry.
When you choose Service 1st, you'll be working with a company that truly cares about our clients. As a local business, you are our neighbours. We are committed to ensuring that all our clients feel respected, understood, and comfortable with our products, services, and solutions throughout the entire process.
If you would like to learn more, get in touch now. You'll be able to speak to someone from our staff right away and will have the opportunity to ask any questions or have any concerns addressed immediately. We look forward to hearing from you.
"Can't say enough good things about this company who installed our new furnace. Sam and Brandon were so professional and knowledgeable, they answered all our questions very quickly and were polite.They were very clean and put down mats everywhere as they would be in and out of the house. They also set up our new thermostat and helped us navigate thru it all as it has all the latest technology and wifi. We love that this company is local, we read a lot of good reviews and because they have a good service reputation we went with them."