Wondering which air conditioner is best for your family and home? There are a number of factors to consider when choosing which AC to buy and install in your home, including:
If you are replacing an AC unit or are installing one for the first time, continue reading below to learn more about how to choose the right one. If you live in the Cambridge area,
contact Service 1st Heating & Cooling
to get the most up-to-date and accurate recommendations for you, your home, and your budget.
Which Air Conditioner Is Best?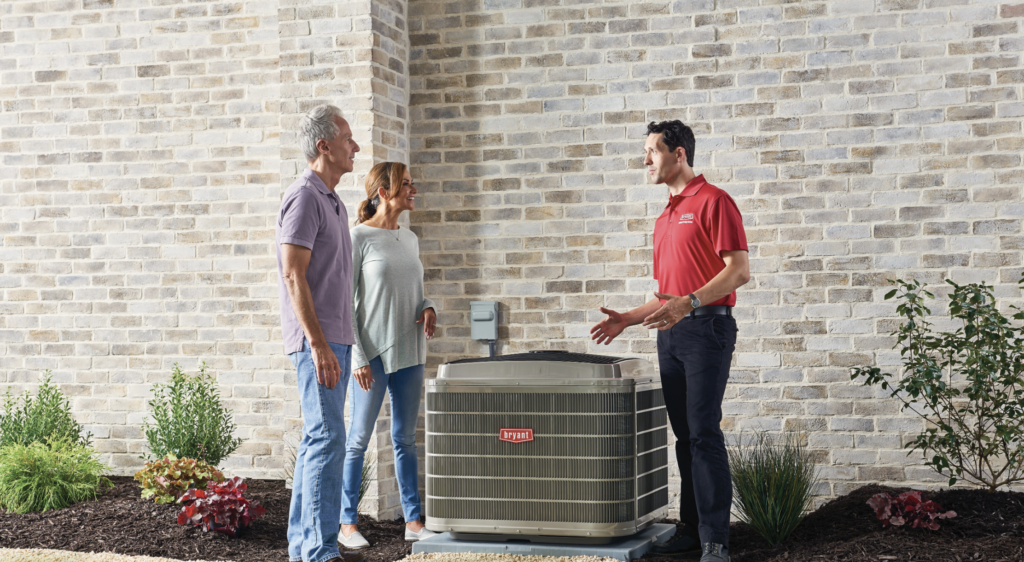 Consider the Size of the Air Conditioner
You may not know this, but air conditioners actually come in different sizes! Typically, residential air conditioner units come in 1.5 ton to 5 ton units. Because of this, it's very important to determine the size of unit for your home. A bigger house will typically need a bigger air conditioner, while a smaller house may not need one as large.
It is difficult to determine the exact size of air conditioner you need on your own; working with a professional HVAC company can help you figure out the perfect size unit for your needs and your home. While the size of your home is a very important factor, it is not the only one to consider! For example, if you have significant shade from nearby trees, you may not need as large of a unit as you may think.
That's why you should always work with professional, experienced HVAC Technicians when deciding on a unit size. They will take all factors into consideration when choosing the right size of unit for your home, including the size and layout of your home.
Consider the Type of Air Conditioner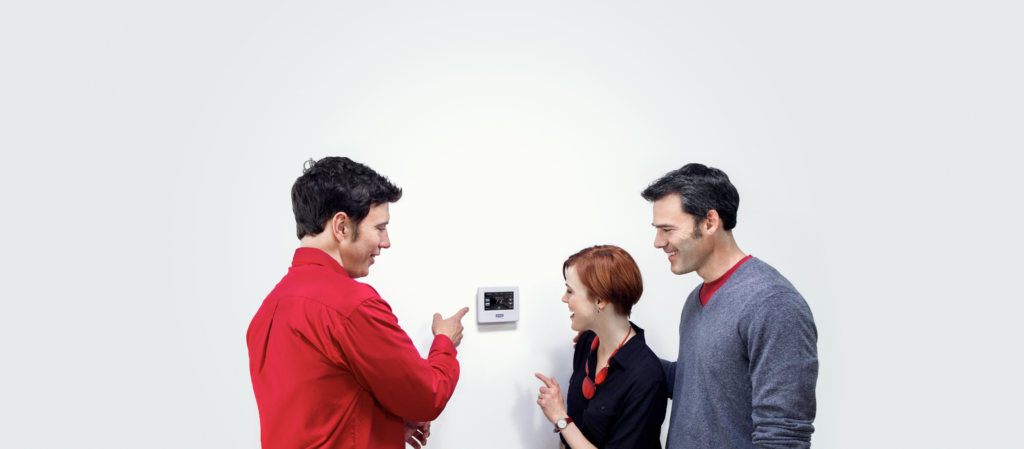 Learn more about which air conditioner is best: different types of AC units will adjust the temperature in your home differently
Another factor that homeowners may not realize when considering which air conditioner is best for them is the type of air conditioner. There are actually three most common types of air conditioners that homeowners can choose from: single-stage units, 2-stage units, and variable speed units.
Single-Stage Air Conditioners
Single-stage air conditioners run at 100% capacity at all times. They are very common and are the most popular types of air conditioning unit. These units turn on when the indoor air temperatures reach higher than what you've set your thermostat to. So, if you set your thermostat to 22 degrees and the indoor air reaches 23 degrees, the unit will turn on at 100% capacity.
A 2-stage air conditioner (also called dual-stage) works similarly to a single-stage unit. However, instead of always running at 100% capacity, it has both high and low options. When you need the unit to run on high, it will. If you only need a bit of a cool-down, it can run on low.
Variable Speed Air Conditioners
Unlike a single-stage air conditioner, which turns on when needed and off when the temperature indoors matches your chosen thermostat number, a variable speed air conditioner is actually always running – just not at 100% like a single-stage AC unit. Instead, they will run on a low level (often 25% – 30% capacity) all or almost all of the time to keep temperatures in your home as steady as possible.
So…how do you know which air conditioner is best? While most homeowners do have single-stage air conditioners, there are pros and cons to each type. To learn more about what type of air conditioner is best for you and your unique home, contact a local HVAC company. They will be able to go over all of the benefits of each type of unit, as well as go over their average price points, to help you decide which is the best choice for you and your budget.
Consider the Brand of Air Conditioner
Choosing a high-quality unit will give you peace of mind for years to come
There are many different brands of air conditioners available. Some HVAC companies, like Service 1st, will only offer products made by one or a small selection of brands. Choosing to go with a well known, high-quality brand such as Bryant is an excellent choice for homeowners.
Whenever you choose a premium product, the upfront price point will be higher. However, over the long run, homeowners often end up saving quite a lot of money. This is because higher quality products will require fewer repairs and will not have to be replaced as quickly as other options.
High-quality air conditioners from trusted brands will also come with excellent warranties that help to ensure you won't have to worry about your unit or unexpected expenses for many years to come.
Consider Your HVAC Company
While you may know exactly what unit you want and even what brand of AC you would like to install in your home, you'll need to find an HVAC company that can do it all for you. As mentioned above, some HVAC companies only sell certain brands, so if you have your heart set on one particular unit, you'll need to find a local company that sells and installs that brand.
When you're trying to find out which air conditioner is best for you, working with a professional, experienced, and honest HVAC company is pivotal. Choosing an air conditioner is a complicated task for most homeowners. Unless you have HVAC experience, you likely won't know all the different brands, types, sizes of units, or the factors that go into making the final decision.
Choosing an excellent, local HVAC company to work with will ensure that you get the absolute best unit for you, your home, and for your budget. Working with a professional company will also ensure that your unit is installed correctly the first time and that it functions exactly as it should for many years to come.
Consider Energy Efficiency
When it comes to figuring out which air conditioner is best, it's important to keep energy efficiency in mind. Modern air conditioners are often much more energy efficient than older units. That is one of the main reasons why homeowners choose to upgrade their system, even if their old air conditioner is still working!
Energy efficient units are not only better for the environment, but they are also better for your wallet. An energy efficient unit will run better and won't make as big of an impact on your energy bills.

Premium, high-quality air conditioners will cost more upfront than other units, but that's partly because (among other reasons) they are incredibly energy efficient. Products must meet certain requirements to get the Energy Star certification. Choosing a higher quality, Energy Star air conditioner can help you save on your energy bills each month.
Rely On the Team at Service 1st To Help You Decide Which Air Conditioner Is Best
If you need help deciding which air conditioner is best for your home, you can rely on the experienced and professional team of HVAC Technicians at Service 1st. We have been serving homeowners in Cambridge and the surrounding areas for over 30 years and have a proven record of excellence. Whether it's time to replace your air conditioner now or you want to learn more about what unit to buy in the future, we can help.
We are a locally owned and operated business that prides itself on the highest quality work and installation of the highest quality products. We have received the prestigious Circle of Champions award from Bryant – an honour that highlights our commitment to quality, leadership, and excellence in the HVAC industry. We are an Elite Bryant Factory Authorized Dealer and offer our customers the highest quality products and services.
"The team arrived on time and were very friendly. I came back from work and the A/C was working perfectly. I am very satisfied with their services."